GG Bet is one of the new eSports focused bookmaker that have a lot of experience within the eSport market. There have been several of those popping up the last couple of years and GG Bet is competing with the likes of ArcaneBet, Betspawn and Thunderpick.
So what makes GG.Bet stand out? Their webpage is fantastic and the eSports coverage is above industry standard, these two points are valid enough to put them on the top of the list but as an addition to this they have a very nice bonus of 100% up to $50. Not the biggest amount but the terms and conditions about how you clear it are a bit nicer than the other companies.
Just as the other nisched eSports bookmakers they have coverage on several games that are not that usual at the regular betting companies. Of course, they cover big game titles like Dota 2, League of Legends, Starcraft 2 and Overwatch but they also have betting on HotS, Hearthstone and Starcraft: Brood War. One aspect that makes GG.Bet stand out in all the noise is that they offer betting on Player Unknown BattleGrounds.
A strong CS:GO focus
As Counter-Strike Global Offensive is one of the most popular eSports today, both in terms of players and Twitch viewers it is clear that CS:GO claims a large portion of GG.Bets focus.
The event coverage at GG.Bet is brilliant and they cover the Majors like Dreamhack Masters, IEM and ESEA as well as minor tournaments and online leagues like ELEAGUE. It's fun with the larger CS:GO events because usually there is live betting odds available at GG.Bet
In addition to this they give a lot back to the eSport community as it hosts and sponsor their own tournament GG.Bet Summer Brazil which is a South American CS:GO tournament!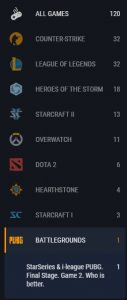 PUBG and some other unique betting markets
Another feature or product offering that makes GG.Bet stand out is that they cover PUBG events! Although the game is rather new in eSports context and the tournament / event format is not necessary fully worked out yet. This does not make GG.Bet hesitate as they want to be one of the companies leading the development in eSports betting.
They have been seen to cover several PUBG events and most recently they put a lot of efforts in providing odds for the StarSeries & i-League PUBG tournament.
Claim your eSport bonus at GG.Bet
GG.Bet has made it easy for customers by not having region specific bonuses. This means that they offer the same bonus to customers from all countries. The current bonus offer is a 100% deposit bonus which will match the customers deposit up to $50.
Claim GG.Bet Bonus - 100% up to $50
Deposit and withdrawal methods – SkinPay available!
There are several ways to deposit money into your GG.Bet account. The full list can be found below but one of the most interesting aspects about GG.Bets payment options are the Skin Pay option which lets you convert your skins into real money which you can gamble for!
VISA
MasterCard
Neteller
Skrill
Alipay
ecoPayz
SkinPay
Due to anti money laundering laws you usually have to make your withdrawals with the same payment option that you used for your deposit.